It's finally possible to get real-time control over business spend. 
With tech so good it feels like magic, business leaders can automatically apply company spend policy at the time of swipe — and now, with the corporate card they already use.   
Introducing: Navan Connect (patent-pending), an innovative card-link technology that is the latest addition to Navan's novel approach to expense management. It has been years in the making and informed by thousands of conversations with business leaders at every level of organizations with various goals and interests. 
These conversations revealed one universal truth: Companies want to give their employees Navan's magical 'No expense reports' experience. But at the same time, many customers enjoy the benefits they get from their existing institutional corporate card and banking relationships. 
In other words, leaders want access to real-time control and visibility so fast it feels futuristic — but without the change management or risk intrinsic to such a massive switch. Companies value their established relationships with bank and credit card partners, enjoy the benefits and high rebates, and rely on the stability they provide. 
What is Navan Expense?
When Navan started, we mapped all the steps of the journey for a traveler, and it's always been our goal to simplify all the pains associated with it, so we built our own cutting-edge booking tool to make it easier for employees to book and change their trips online. But when travelers were on their trips, we realized that so many of the actions are related to payments and expenses along the way. The work involved in administering employee expenses isn't core to anyone's role but is extremely time-consuming and frustrating.
In 2020, we launched Navan Expense, an expense management and corporate card solution, with the goal of helping companies gain complete control and visibility over employee spend to save precious time and money. The idea is simple:
Set your spend policy to align with your company culture
Employees have easy access to their company's spend policy as they spend with their enrolled corporate card 
Policy is automatically applied when employees make a purchase 
Save time and money: Employees are liberated from having to manually code, itemize, describe the reason for the expense and who was involved. Finance teams can save time with automated reconciliation, approvals, and compliance.
Many other expense solutions — from legacy players to modern fintechs — are not giving you actionable real-time visibility and policy enforcement of your global T&E spend. Navan is the only solution that captures the expense details the instant it happens, checks if the expense adheres to company policy, and allows you to inform employees whether their expense is within policy as they're spending. Previously, we had offered this capability exclusively on cards that Navan issued.  
But as of today, you can now get the magic of Navan on your enrolled Mastercard® or Visa® corporate card. 
Watch Navan Expense and Navan Connect in action:
Why We Built Navan Connect
Navan is all about our users, all the time — and delivering the best experience for our users. That's why we're excited to expand the convenience and efficiency of Navan Connect to any enrolled corporate Mastercard and Visa card so that more customers can gain access to our revolutionary technology.
With Navan Connect, businesses can link their current corporate Mastercard or Visa card to Navan Expense, our expense management solution, and reap the benefits of real-time visibility and policy controls—without requiring customers to change their existing corporate cards and banks. 
How it Works
Navan has reimagined the expense management function for finance teams who, starting today, can leverage the innovative capabilities of Navan's expense management solution without switching their corporate cards. With 70% of employee expenses tied to travel, leaders can now have 360-degree control of their T&E spend with full context into all transactions and the power to influence which of those ultimately happen.
Navan Connect is another example of Business Software Designed for People—built to exceed user expectations and enhance human connections, resulting in smoother and more efficient business operations. 
Here's how it works:
Keep the loyalty rewards, rebates, and banking relationships that matter most without sacrificing your corporate card. With Navan Connect, companies keep all the benefits of their existing corporate card program, from rewards and rebates to global card acceptance and banking relationships.  
Issue a card to every employee, thanks to powerful spend controls that apply policy at the time of swipe. With Navan Connect, finance teams can access a new kind of control over corporate cards at any level, role, or expense category.
See each expense in real time. Companies have full visibility into expenses the instant they happen with pending and cleared transactions that appear in the dashboard — in real time — to uncover savings opportunities.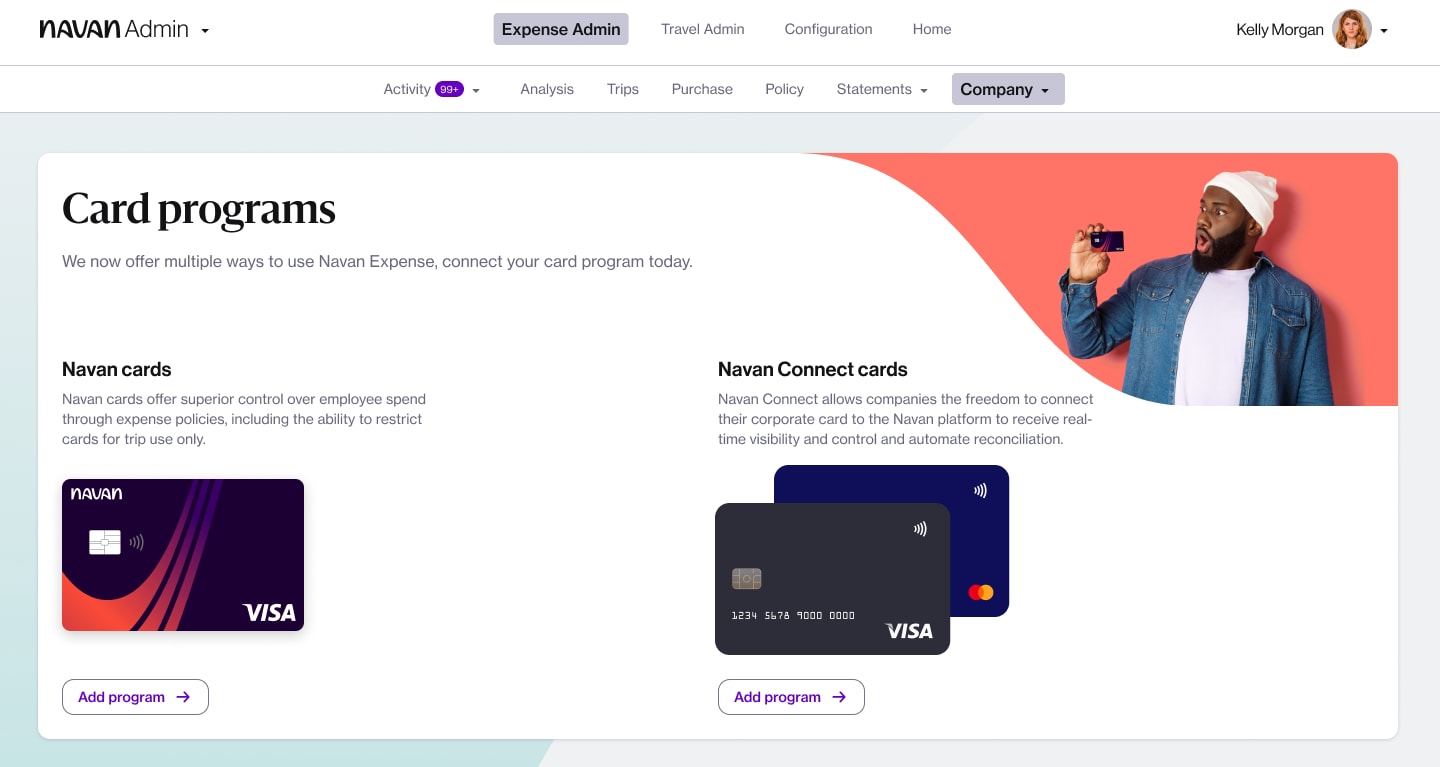 With smart policy management, real-time reporting, and automated expense reporting, Navan Expense streamlines the entire business spending process on one platform for complete visibility and control across employee spend. It's expensive and inefficient to have your employees waste time on expense management and reporting. With Navan, you can liberate employees from busy work so they can focus on the strategic initiatives that actually move the business forward.
Experience the magic of Navan. Sign up today.